#Edublogs Club    Prompt 18 (catching up)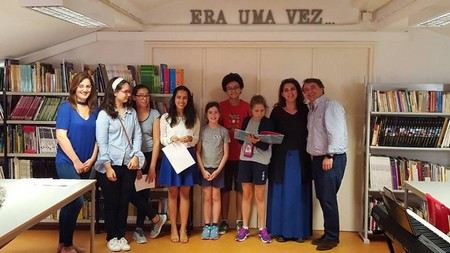 Imagem: CAD – Cena Literária 
     I would like to introduce my dear colleagues Carla, Paula and Paulo, as they take up the impressive challenge of Beauty, by teaching different Arts in our School, each of them trhoughout their own special passion.
 These colleagues strongly contribute with their singular gift to the unique physiognomy of our School, and more than that, they keep weaving its own secret soul, by putting their talents at the service of our students.
     Thus, they help their younger fellows to discover their hidden talents  and encourage them to come out with their unique personalities, to offer their best both to their own young lives and to our school community.
     But  beyond that, they challenge our students to go further, in order to enlarge even the whole horizon of their generation. By giving away the best of themselves, our youth add meaning and strength to the perennial quest of mankind.
As the post would turn to be too long, this time I will only chose Poetry: CENA LITERÁRIA
Imagem: Teacher Carla playing Conspiração no Palácio
    So, Carla – who teaches Portuguese and Literature – is an actress, in a Theatre Company, – temporarily closed –  playing main roles in different kinds of drama and comedy plays.
    She has a singular passion for poetry, so that she created a monthly event at school, each one to celebrate a different poet, whose chosen poems are recited or read aloud by voluntary students, in the library, open to an audience of all ages.
    Portuguese Poets like António Gedeão, Mário de Sá Carneiro, FlorBela Espanca, Fernando Pessoa, Afonso Cruz, Almeida Garret, José Saramago, Sophia de Mello Breyner, Walter Hugo Mãe, are brought to life by the young voices and the brave hearts of students.