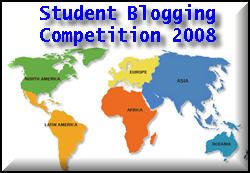 Image: Tecnology in the Classroom
This was our badge for the first Stubc competition
Better Blogguing with Students Course – Week Six #edublogs
    I had started blogging during the Blogging Comment Challenge;   shortly after that adventure, I participated in the first Student Blogging Challenge, back in 2008.
    It  has been an unforgettable experience to me and some of my young students, a handful of them with their own blogs set up, with my help, during breaks or in the evening, asking for support through messenger.
    I tried to come back in later years, even if blogging was still not considered as a school activity, and some Portuguese students have been participants, or have shared the common subjects posted in "Student Friends" or in "Bringing Us Together"(now both archived) between the Challenges, but I've been mostly present as a mentor.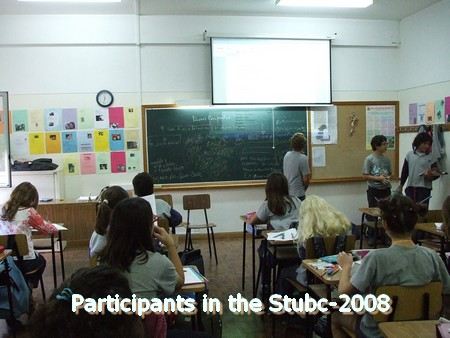 These three boys of 6A would lead the lesson by themselves
   Today, I'm celebrating the #Stubc: it has been created by Sue Wyatt, a Tasmanian teacher – almost on the antipode of Portugal – who excels in the art of bringing  students together from all parts of the world.
    In fact, Sue  creates a safe and challenging environment where students may engage in cordial and thoughtful conversations. 
 Twice a year, along ten weeks, each student participant is followed along by an adult, as a commenter.  Each week, an inspiring task with multiple suggestions is posted, so that students write about a common subject or share the same activity.

6B Participants in Carnival Celebration
     Thus, a true web of meaningful communications is weaved among the participants. Students improve their digital literacy as well as their technological skills; but above all, they become deeply aware of their Global Citizenship, and  subtle links of genuine friendship find a  fertile soil to be born and grow.
     I don't know if there is an Edublogs Award for this admirable effort in which mostly young Students give the best of themselves, but I remember the words of Sue Wyatt about it: 

Image: Edublogs Awards
     The Twentieth Stubc is about to begin: please, register here, for our Students
"are the bloggers of the future we should be helping to grow".
Ines