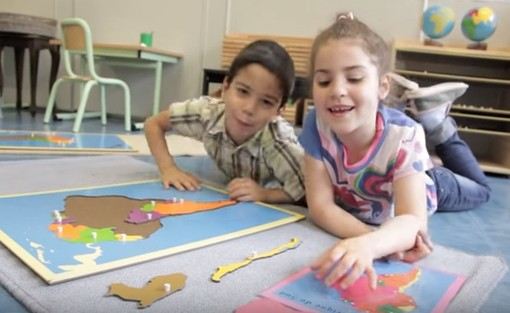 Image: Céline Alvarez You Tube
#Edublogs Club    Prompt 21
"Take a Look, it's in a Book"
    While I was visiting several different sites belonging to "Dynamic Schools" and "Democratic Schools" in France, all drawing inspiration from the American Subdury Valley School, I stumbled upon a young French Author – Céline Alvarez – who achieved a unique experience, along three years, with kindergarten children. 
    "The Natural Laws of the Child" (downloadable in free pdf) is not only a vivid description of an outstanding educational adventure, but also a clear exposition of the principles and values that framed and guided the unfolding of the learning experiences actually carried out by the children.
    Céline's site is now accessible in English and a growing number of teachers, all over the world, are participating in this approach;  in french, they are also freely sharing in the forum  different kinds of didactic material.
    Although I have also been reading some critical reviews on this powerful book, I would like just to present some valuable and inspiring messages it unveils. The work of Céline has been built upon the heritage of Dr Montessori, which she has enriched with the modern discoveries of neurosciences and cognitive psychology. All her way she has been supported by prof Catherine Gueguen, prof Stanislas Dehaene, and "The Center of the Developing Child" at Harvard University.
   27 children, aged 3, 4 and 5, issued from humble families, in a suburban public school, Genevilliers, have shown a deep enthousiasm and real commitment to deal with the learning activities that were individually presented to them by Céline and her assistant Anna Bisch.
     They were invited to exercise these activities freely and whenever they wished, all by themselves, in pairs or in small groups – the older children spontaneously taking care of the youngers and helping them. Most of the children learned to read and to count, among many other subjects; the older learned to write and to use the four mathematical operations; at the end of the experience, they were all in advance concerning school standards for their age.
     Both adults acted as facilitators and supporters, by presenting the activities and by creating a learning environment permeated by reciprocal kindness, respectful tolerance of differences and a cheerful tranquillity. In the video we may appreciate the relaxed concentration and the calm joy of the kids in action: they seem to feel secure, happy and actively engaged in their learning.
     According to the author, we can't really teach, but we can and must accompany and support a child's natural strong will to learn; and he will only learn trough his own free commitment into a chosen activity in accordance with intrinsic motivation. And the Author invites her readers: "Let the children reveal themselves to you".
Ines