A lesson with Hubble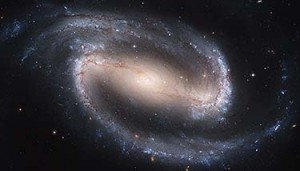 Today we were going to visit our blogs during lesson time, but our net connection failed; as I had a new brand lesson prepared in my pen, students weren't disappointed. I must remember that it is not enough to prepare a lesson in our wiki or in one of our blogs or in our Moodle platform; I must carry with me several lessons prepared, just in case.
For the technical set up of the lesson, as usual, my students did everything: to connect the laptop, the net connection, the projector and the pen; next, Filipa opened the power point and monitored the whole presentation; the other students read, asked and answered questions; I just stood at the back of the class commenting and provoking questions.
I've tried to present the role of conjunctions as linking words connecting ideas according to logical relations; I've downloaded photos from Hubble's site and I've wrote all the sentences as legends or commentaries to these photos. They were enthusiastic about the amazing galaxy we live in and conjunctions didn't seem so abstract after all.
Empowering Students
If I spent some free time with a small group at a time, I know they will be able to present the lessons themselves; and that is our ultimate goal, as says Sheryl Nussbaum Beach in her wonderful post Letter to my Colleagues where we can read:
"Want to know how a 21st Century learner learns? Ask them. You will be amazed at what you hear and if you are smart- you'll act upon it. (…) Turn your classrooms into learning ecologies- learn with and from your students. Get rid of top down, expert driven instruction methods and nurture self-directed discovery- both your own and theirs. Turn your passions into classroom curriculum. Get excited and mentor your kids integrating your passions with core content and foundational knowledge. Help them develop a love and understanding for culture and our rich heritage."
I agree with these words; it's a question of time and passion, for us, to empower our young students and they soon will break free. We may verify it by visiting the beautiful blog of Laura
Building Community
Alberto asked me how to embed music files in his posts; I've suggested that, if he wants, I could write all the practical instructions about using web tools in his Blog; he would cooperate and ask other colleagues to collaborate; everyone looking for a particular practical information would go to his Blog and look for it.
Tomorrow I'll ask two other students if they are willing to take in charge the work related with our library, including book reviews and so on; any other student looking for a book or wishing to post a review would go to their blog.
We may distribute by all the students' blogs several different tasks at the service of our small new born community. Thus students would be progressively strengthened in responsibility, autonomy and initiative. Moreover, It would give them a motive to not stop blogging when the personal inspiration would seem to them to be "absent", as they would feel that they are also in a mission, at the service of others.