[et_pb_section admin_label="section"]
[et_pb_row admin_label="row"]
[et_pb_column type="4_4″]
[et_pb_text admin_label="Text"]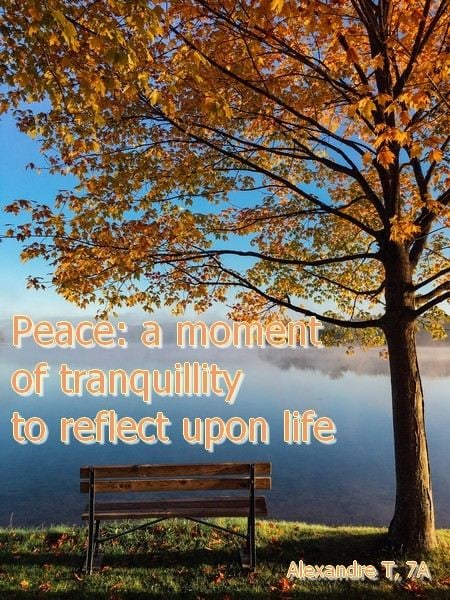 Imagem: Photo by Aaron Burden on Unsplash  
     Guest Bloggers: 7th grades write "at two hands": 
    Peace is a moment of tranquillity that allows you to reflect upon life and to consider what you have done wrongly or wisely.
     It's like being in a forest under the moonshine, enjoying good company, silence, and feeling everything around you.
     To feel this ambiance, those smells, that buzz from the bees … in a wonderful landscape.
     Something beautiful, refreshing and quiet like the salty mist, the ocean smell and its incessant movement.
     To plunge into the sea and this being so refreshing, as if you and the sea were just one: this is Peace.
     An eagle that cuts the wind with its awesome wings wide open, flying over the glacier of a magnificent mountain. 
     Me, surrounded by animals, sitting by their little house, building a tiny wood house for another being.
    So much Peace inside you, everything around you is full of quietness and wonder.
    Nature talks to you with silence and with the breeze in the forest, going through drew drops on the verdant leaves.
(Text written "at two hands"according to the book "Quero ser Escritor" de Margarida Fonseca Santos e Elsa Serra)
Alexandre T and André R, 7A
[/et_pb_text]
[/et_pb_column]
[/et_pb_row]
[/et_pb_section]