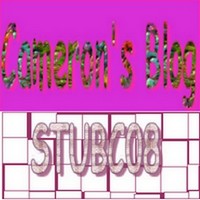 My Answer To Cameron
 If you could describe my blog in just a few words what would they be?
Some personal issues retained me from visiting Cameron's Blog sooner, but here I am to answer her question and tell her why I have  chosen her blog to nominate, which are the features that I admire in it.
First of all I had been visiting her blog since the beginning of the students blogging competition; I just loved to rest for a small pause there, listening to her music. Thus I took the time to get acquainted with her style, and to appreciate it.
I couldn't possibly have done the same with all the new student blogs that were popping up everywhere in the space of stubc08, although I visited a lot of them; and I'm certain I would find new  treasures if had been given time to visit more accurately so many blogs I miss. I won't name them here, some of them are present on the blog roll of our class blog but the complete list would be too long. 
Thus, all along the challenge, I have become aware of the progress Cameron was making: her writing was evolving both in clarity and in expressing something unique: her own voice.
The first post that stroked me was "Things to Think About" – I know the students from Connecticut  have a great teacher that comes up with thoughtful subjects to blog about – however, the progression of ideas was genuinely hers, and I surprised myself to be wondering about these same questions,   thanks to the power of her only words.
"Would you listen to a 12 years old?" – Cameron asks in this post. My answer to her question is:" – Yes, I would."- In fact, I found inspiration and renewed my courage to face the daily fight of life, – to get all duties done, to bring justice into small actions, to accept unpredictable problems and suffering,  – as well as I have renewed my capacity to contemplate the  wonders that humbly surround us in everyday life – the healing power of music, the beauty of nature, the mysterious ways of  human friendship  –  just by letting the spirit of "joyful rebellion for a better world", that animates Cameron's writing, take hold of me.
As Miss W. puts it in a comment to the Edublog Awards announcement "Any chance in future for a student award as they don't have the PLN that adult bloggers has? Even under primary/elementary, middle, high and senior high school. Remember these are the bloggers of the future we should be helping to grow." 
I believe that young bloggers are already playing an active part in the renewal of our era; that the fragile web they are weaving with their written words conceal the power to multiply and deepen friendly connections as the foundations of a different society:  the one that will find its joy in sharing and thus will be healthier, more happy, more free.
So, Cameron, in a few words, I would define your blog as "Joyful Rebellion for a Better World".
Ines Pinto