A Path along the Coast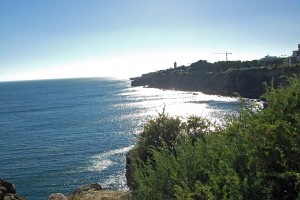 There is a path along Cascais coast that may be taken as  something unique in both my culture and my personal life.
If you walk along this path facing the open sea you contemplate the Atlantic Ocean as it seems to widen and become as large as the whole horizon; if you walk facing Lisbon, where the river Tejo meets the sea, you will go directly to down town, at Cascais Bay. In any case, you'll be following the route of the Caravels – the  sailing ships that, in ancient times, departure to or returned from  distant lands as India, Japan or Brazil with their precious cargo.
I often walk along this path, when, returning home, after school, I leave my car in front of the house and go visit my parents. As several collaborators in T.J. original invitation said, the proximity of the ocean is both relaxing and energizing, as if a healing power lay hidden in its deepness.
I stopped taking photos when my way made me turn inland, where an arch-like rock stands – called the "Mouth of Hell".
The song that went with the photos was the story told by both a sailor whose ship has sunk in front of this coast and a lover who misses someone he calls "Crazy" – as in Carla Arena's brazilian song – that used to wait for him at a certain window turned towards the sea. But I wasn't sure if I had the rigth to use it on line.
I won't explain why I'm so late to fulfill this task – as Michele Martin won't stand any such nonsense – but I would just like to add that to me, dealing efficiently with practical items – such as web tools – turns out to be far more difficult than trying to reflect upon splendid posts and put those thoughts in written words.
Thus, after several defeating trials, I just  gave up trying to shorten the presentation with  Windows Movie Maker; then I tried Microsoft Photo Story and Slides Share – but the files couldn't be uploaded – . Finally, I uploaded the photos to Flickr but they are showed in reversed order and I can't figure why. Here they are – I hope!
Should I have asked for more help than that which is so generously provided to us at The Edublogger ? Or it's just a question of training and being patient?